Chrysophyllum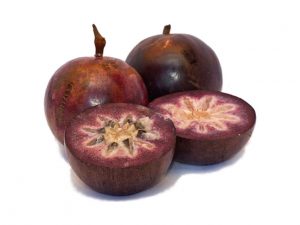 Chrysophyllum (Star apple, Star apple, Cainito, Star apple, Milkifruit, Kaimito) DO NOT confuse with Kaimito (or Abiu). Originally from Central America, today it is cultivated in the tropics of South America, India, Southeast Asia, West Africa and Tanzania.
Spherical or oval fruits (up to 10 cm in diameter) are covered with a smooth inedible peel of green or purple-brown, depending on the variety. The flesh can be from white to purple, it is juicy, jelly-like, sweet and very sticky from milky juice. In a fruit to 8 brilliant dark brown inedible seeds. If the fruit is cut across, then the cut pattern will look like a star. Ripe fruits are wrinkled and soft, they can be stored in the refrigerator for up to three weeks, so this is an excellent present for friends and family from your vacation in the tropics.
It contains a lot of phosphorus, calcium, iron, potassium, vitamin C, amino acids and protein; has a low glucose content.