Chrysophillum or Star Apple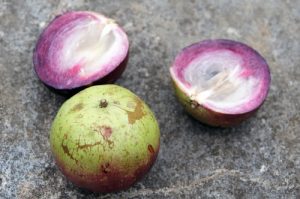 Star apple fruits are round or oval up to 10 cm in diameter. The peel is thin, smooth from green to purple or brown, depending on the variety. Under the peel is a layer of peel of the same color as the peel itself. The pulp is white to violet, juicy, sweet, sticky, jelly-like, with an apple flavor. Inside, there are up to 10 solid solid brown bones, up to 2 cm long. In cross section, the flesh resembles a star. Unripe fruits – knit and inedible. The milky juice, which remains even in mature fruits, is very sticky, as a result, when the fruit is consumed, the lips may stick together a little.
It grows in countries with a tropical climate: in South America, India, Indonesia, Malaysia, Vietnam, the Philippines, and West Africa.
Ripe fruits should be selected for slightly wrinkled peel and softness when pressed, no damage. You can store in the refrigerator for up to 2-3 weeks. Fruits tolerate transportation well. Before eating, the fruit needs to be cooled and peeled and peeled (they are bitter). You can eat, either by chopping in half and a spoon, choosing the flesh, and cutting into slices, like a watermelon, the bones are inedible.
Used in the preparation of desserts.
Star apple is rich in vitamin C and trace elements. Very nutritious.
Ripening season: from February to March.