Watermelon, cucumber and watermelon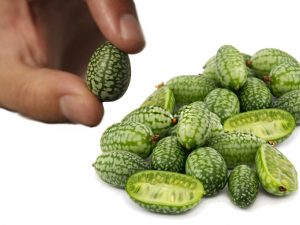 Watermelon, cucumber and watermelon – (Rough melotria, Melothria scabra, Mouse watermelon, Mouse melon, Mexican sour gherkins, Sandita, Cucamelon). A very strange subject on our list … Decide for yourself whether it is a fruit or a vegetable. The external color is very similar to watermelon, and inside is an easily recognizable texture of cucumber, while the size of the fruits growing on the vine is more like grapes: only up to 2 – 4 centimeters in length. The birthplace of this strange plant is part of America from Mexico to Panama, it is not a hybrid, but an independent plant, known as far back as the pre-Columbian time. Abroad is better known as "Cucamelon", which, as in Russian, is formed by the addition of two words: cucumber and watermelon, that is, "cucumber + watermelon".
The peel of the fruit is thin, but quite hard, and the flesh is very juicy. The taste is described as more like a cucumber with a small citrus sourness, those who managed to try the "cucumberzo watermelon" liked the taste. They can be eaten just like that, but more often they are added to salads, to french fries, various salty dishes, and even watermelon pickles are pickled. In addition, the creeper has edible tubers!
The composition is rich in lycopene (an antioxidant that improves heart function), beta-carotene (helps maintain healthy eyes and young skin), minerals and vitamins K, E, C and fiber.